18 March, 2021
&nbsp
Our very first Intensive Study Programme "Which Guidelines for Evidence-based Communication", organised by the Université de Versailles Saint-Quentin-en-Yvelines (UVSQ), took place from 1-5 March 2021.
Around twenty master's students and PhD candidates gathered remotely to follow a set of practice-oriented sessions – lectures, workshops, hands-on activities – proposed by journalists and university professors.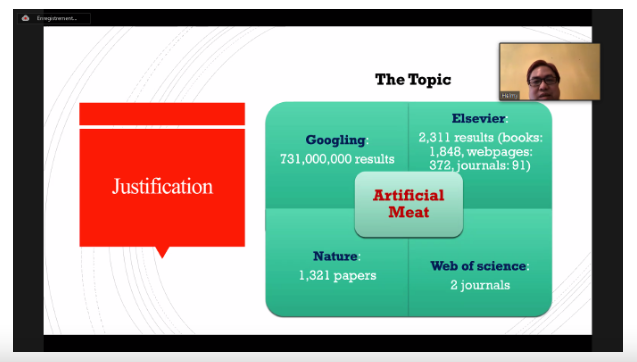 The five-day event addressed students of various disciplines and focused on the quality of information and the spread of mis- and disinformation (the so-called fake-news). During this lively exchange of views, different issues were debated by participants, ultimately looking into ways to support students to improve their resilience towards misleading media content and to help them better understand the know-hows of efficient science communication.
Can Media and academia fight together against "fake news"?
ERUM's leitmotiv is the quality of information today and the threats and opportunities inherent to emerging forms of journalism and communication. But it goes without saying that the way we consume information today and process it are also of paramount importance.
"The Intensive Study Programme provided valuable input as to how the media can act as an interface between scientists and the general public. The best way to fight fake news is by disseminating the right information. It is important for journalists and scientists to create networks based on trust and experience and work in synergy." – One student.
There are consensuses in the academic and non-academic communities, one of them being that there is a correlation – if not causation – between "fake news"'s rapid spread and social media. During their presentation, Vytautas Magnus University Professor Kristina Juraite and Associate Professor Inesa Buneviciene highlighted that in the current and fast-changing media scene, it is a necessity for scientists and journalists to co-operate more intensively and find common grounds and objectives.
Is my source credible? Learning how to critically evaluate news sources.
Participants focused on the basic principles of science communication, ways to make complex topics easier to understand and fair reporting – understood as a form of reporting where representations beneficial to specific groups are avoided, but also acknowledging the scale and significance in the field of the sides represented. The discussion on determining whether a source is reliable led to the following key principles:  
look for primary sources;

check if the primary source is relevant and has been analysed properly;

verify the information – e.g., other scientific articles, interviews with independent experts or scientists;

include research limitations, conflict of interests.
Professional writer and Vytautas Magnus University Associate Professor Jaq Greenspon offered two productive sessions on creative writing. Drawing on his pronounced sense of humour, Jaq Greenspon managed to actively engage participants in debates and exercises on how to make a written statement or a story more effective.
Student competition: it's like listening to BBC radio!
On the last day, the ultimate challenge for students consisted in presenting a piece of science news they had prepared during the week, taking inspiration from the lessons learnt during the training event. A good and rewarding experience to test first-hand – and in front of a live audience – how to be a good science communicator.
The  competition was tight and congratulations were due to all participating teams as they covered a wide variety of critical topics, ranging from plastic toys, gender equality and stress in children to the reception of medical science, artificial meat and the polar vortex.
"I must say that this Intensive Study Programme has been instrumental in providing us the opportunity to learn how media can make or break the minds of the people and what is the responsibility of the journalists and even the common people who are the readers. This program really taught us different aspects of communication and rather I would say effective communication. I would love to be part of ERUM and Intensive Study Programme on every event." – Another student.
Competition winners Anthoula Baliou, Claire Pillar and Unnikrishan Madhavan, brilliantly presented: "How safe are plastic toys?"."It was like listening to BBC radio!" said one of the jury members.
Science communication: what you should keep in mind.
The first ERUM Intensive Study Programme was a great success and had clear takeaways. During the last decades, the gap between scientific findings and their dissemination to the general public has been exacerbated due to the dangerous tendency of oversimplification and sensationalism in the media. To bridge the gap and improve the quality of information, more dialogue between the media sector, researchers and educators is necessary. Platforms of discussion and stronger links should be created. 
At the end of the day students were enthusiastic about the overall experience and their words can only exemplify the important work ERUM partners are doing when building the resilience of students towards "fake news" and safeguarding quality of information.
"I learned a lot, and I feel more confident and informed about communicating about science".